Ashley and Tim Francis had a specific requirement when they were house hunting 20-plus years ago: they needed tall, open walls to hang the large-scale pieces in their ever-evolving art collection.
Tim Francis, as Ashley Francis tells the story, would peek in a potential property's door, see too many windows, and immediately cross it off the list. "We needed wall space," she said.
Finally, the couple found a circa-1900 camelback shotgun house on a quiet Uptown Street. It put them within walking distance of some of their favorite restaurants and retail spots. But "it was a lot about the space in terms of the high ceilings," Tim Francis said of their purchase decision. "We thought it was the right space to hang art — big art."
Those 12-foot walls now showcase a variety of pieces from a who's who of contemporary American artists and photographers, Canadian photographers and painters, and more.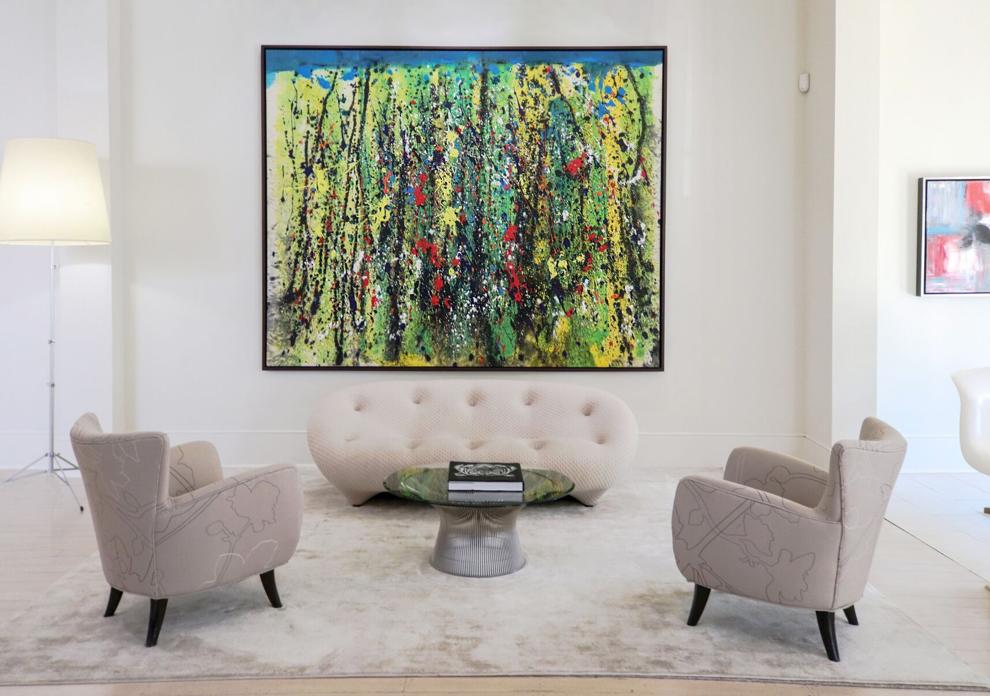 "We collect it, we live with it, and we donate it. So, we want to collect work where most of the artists are either in museums or respected," Tim Francis said, noting the couple's donations to Tulane University — where he earned a law degree, and she an MBA — and Xavier University, as well as to the New Orleans Museum of Art, the Ogden Museum of Southern Art, Isidore Newman School and Louise S. McGehee School.
Also included on the walls are colorful abstract paintings by Tim Francis. His passion for collecting and creating art began in the studio of the late John T. Scott, an African American artist and Xavier University professor. A MacArthur Fellow, Scott was known for his kinetic sculptures and large woodcut prints.
"He's sort of my mentor," said Tim Francis, who spent much of his time with Scott while growing up on Xavier's campus. (Tim Francis' father, Norman C. Francis, was president of Xavier University from 1968 to 2015. A new documentary on him, "Dr. Norman C. Francis: A Legacy of Leadership," premiered in September on WYES-TV.)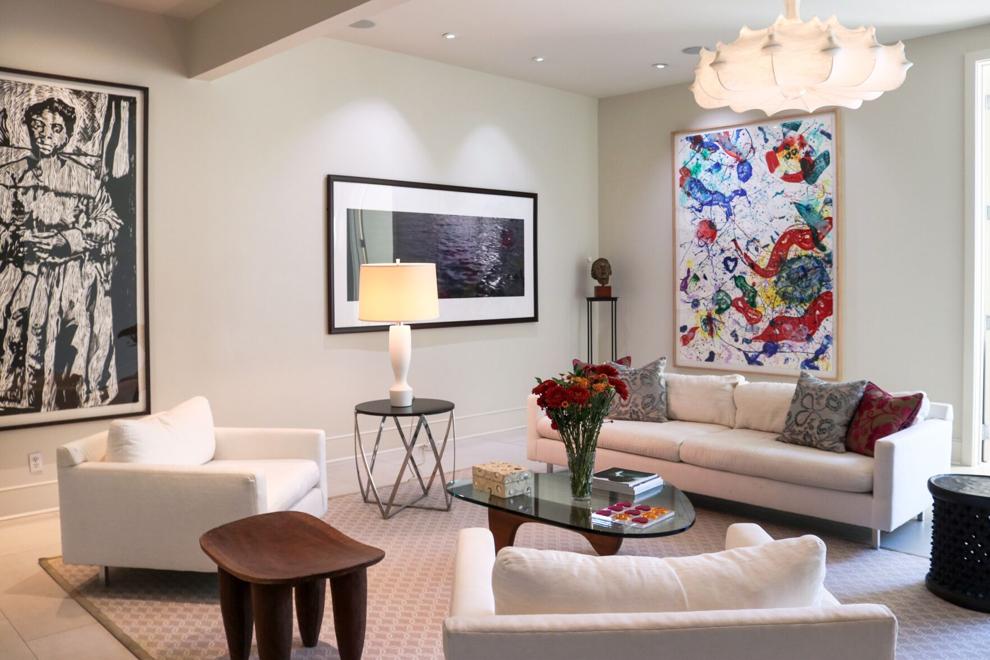 Creating comfortably modern living spaces among impressive art has been a journey of perseverance for the busy couple, who juggle careers with various philanthropic efforts. Tim Francis is an attorney, and Ashley Francis directs online learning for Tulane University's Freeman School of Business.
They had to gut the 4,300-square-foot house to the studs not once, but twice.
When the couple, who met at a mutual friend's party, bought the house, it already had been converted from a camelback double shotgun into a single-family residence. Needing more space for their growing family, they planned a top-to-bottom renovation.
It entailed removing part of the existing roof to expand the camelback, creating an 800-square-foot addition with two new bedrooms and a bathroom, as well as a laundry and playroom.
They started the project just weeks before Hurricane Katrina struck in 2005. "The roof was off; the framing was up, but not really completed," Tim Francis said, adding that the storm soaked the interiors.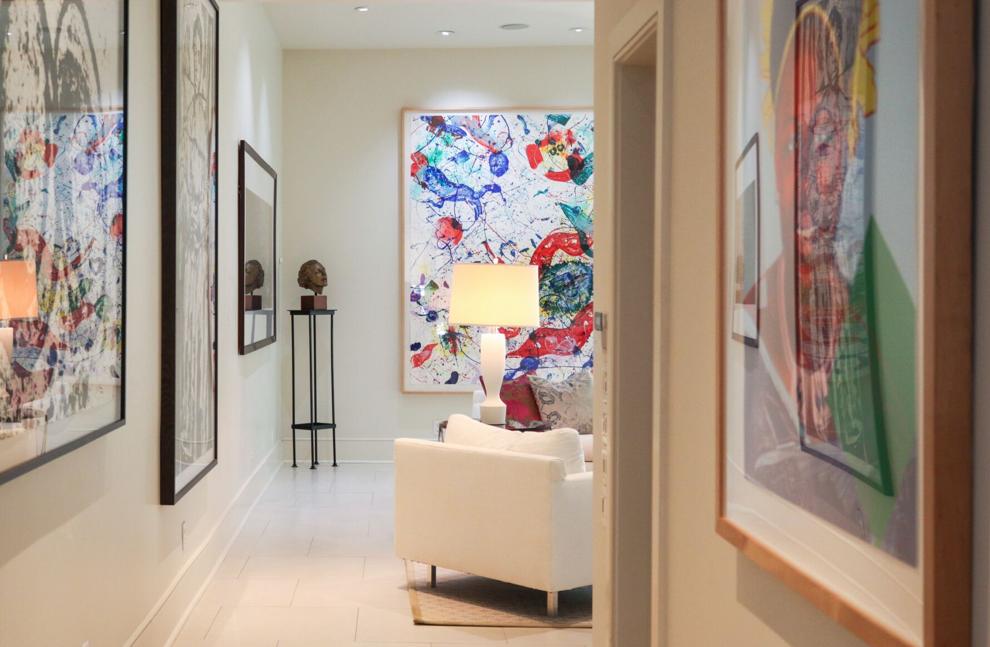 Katrina's wrath also exposed rotten wood under the existing siding and missing insulation in window openings that previous owners had filled in to create more wall space. "The moisture penetration wrecked the walls. The art fell down, so we ended up having to gut the house to the studs," he said of the 10-month project to make the repairs and finish the renovation.
Five years later, they gutted the house to the studs again when their contractor, Landis Construction, discovered Chinese-manufactured drywall had been used in the post-Katrina project. The drywall has been known to corrode plumbing and electrical systems and cause health issues.
While "it was a drag," he said, to remove all the defective drywall and replace it, the second eight-month project created an opportunity to correct past renovation regrets and make changes.
That included replacing the family room's existing floors with large cream-toned, porcelain tiles and designing a paneled wall to surround the room's television. The couple worked with Stafford Tile & Stone on the renovation.
One of the panels is actually a door that opens to reveal storage space under the modern steel-and-cable stairway, which leads to the three bedrooms on the second floor.
The projects also gave the couple a chance to create modern interiors — with help from Penny Francis, Eclectic Home's owner and principal designer — that complement the artwork.
The double wood-panel front doors open to a grand unencumbered space that encompasses the living and dining rooms. The couple's teenage daughters, Olivia and Sara, use the space to study and hang out with friends. "When they were little, they rode their bikes in here; they roller-skated in here," Ashley Francis said.
Neutral walls and pickled pine floors let the artwork shine. Light streams in from two sets of floor-to-ceiling windows at the front of the house and a large glass-block wall. The wall was part of the house when the Francises bought the property, and they turned it into another display space for artwork by hanging a glass-and-steel sculpture by Brooklyn-based artist Lesley Dill in front of the glass blocks.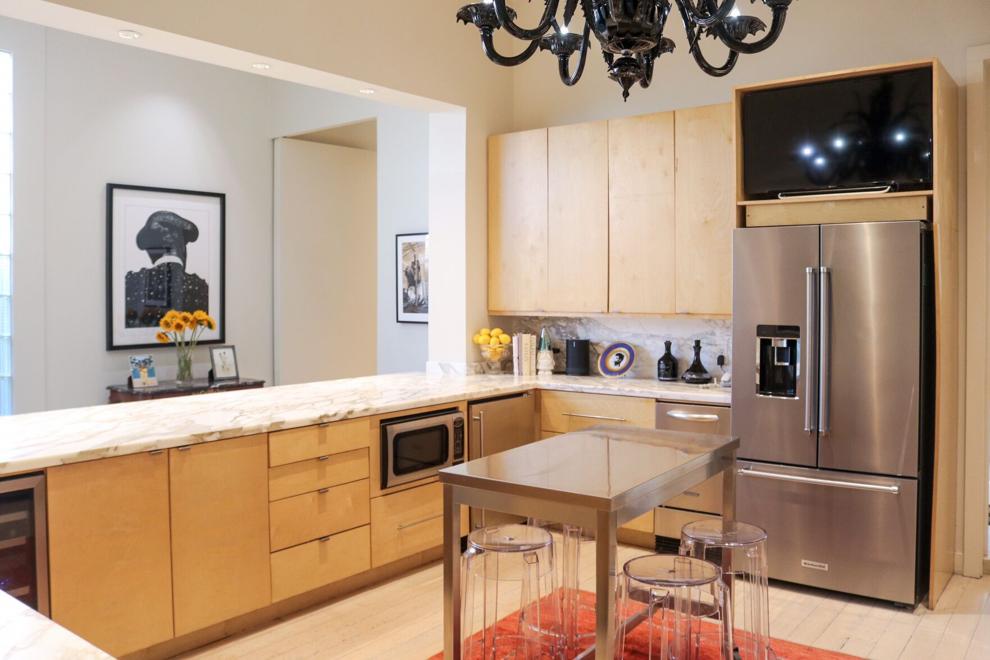 The artwork looks like a monumental string of Mardi Gras beads. In faint script on some of the individual beads, Dill inscribed the sculpture's title taken from the words of an Emily Dickinson poem: "Take All From Me But Leave Me Ecstasy."
The living and dining room walls include works by African American artist Frederick Brown — one a large-scale abstraction expressionist painting, the other a portrait of Chief Seattle — and framed sketches on paper by Jean-Michel Basquiat. One of Tim Francis' paintings hangs near a front window.
Canadian artist John Hartman's abstract surrealist painting, entitled "Harlem River," hangs above the dining room's sideboard. A large-format color photograph by Canadian architectural photographer Robert Polidori, part of Polidori's "Versailles" photo project, commands the wall in front of the dining table. That wall is more than just a place to hang art. It also smartly hides the functional parts of the kitchen.
Interior designer Tara Shaw and architecture and interior design firm Chrestia Staub Pierce helped the couple come up with a unique way to open up the kitchen: a grand cased opening on one side that spans almost the full length of the room. Light wood cabinets topped by Calacatta gold marble counters fill the opening and provide a natural spot for gathering.
Sitting on one of the four chrome barstools on one side puts the kitchen on display, with a custom Murano glass chandelier serving as the focal point. The Francises got the fixture for a deal during a trip to Venice, Italy, and had it assembled and installed when it arrived in New Orleans in pieces.
Its black glass complements the kitchen's artwork: a mixed-media piece by Atlanta artist Radcliffe Bailey above the sink and a small abstract painting by their youngest daughter, Sara, next to the Wolf gas range.
Standing on the other side of the opening gives views to the glass block wall, a limited-edition photograph by friend Lee Crum, titled "Matador," and the short hall — with an oversized swinging door — leading to the family room.
The family room features a glass fireplace that seems to float in the center of a brushed steel feature wall. Nearby, there's an entry to the study and floor-to-ceiling sliding doors open to a small patio. It has stairs that lead to a balcony off the primary bedroom suite.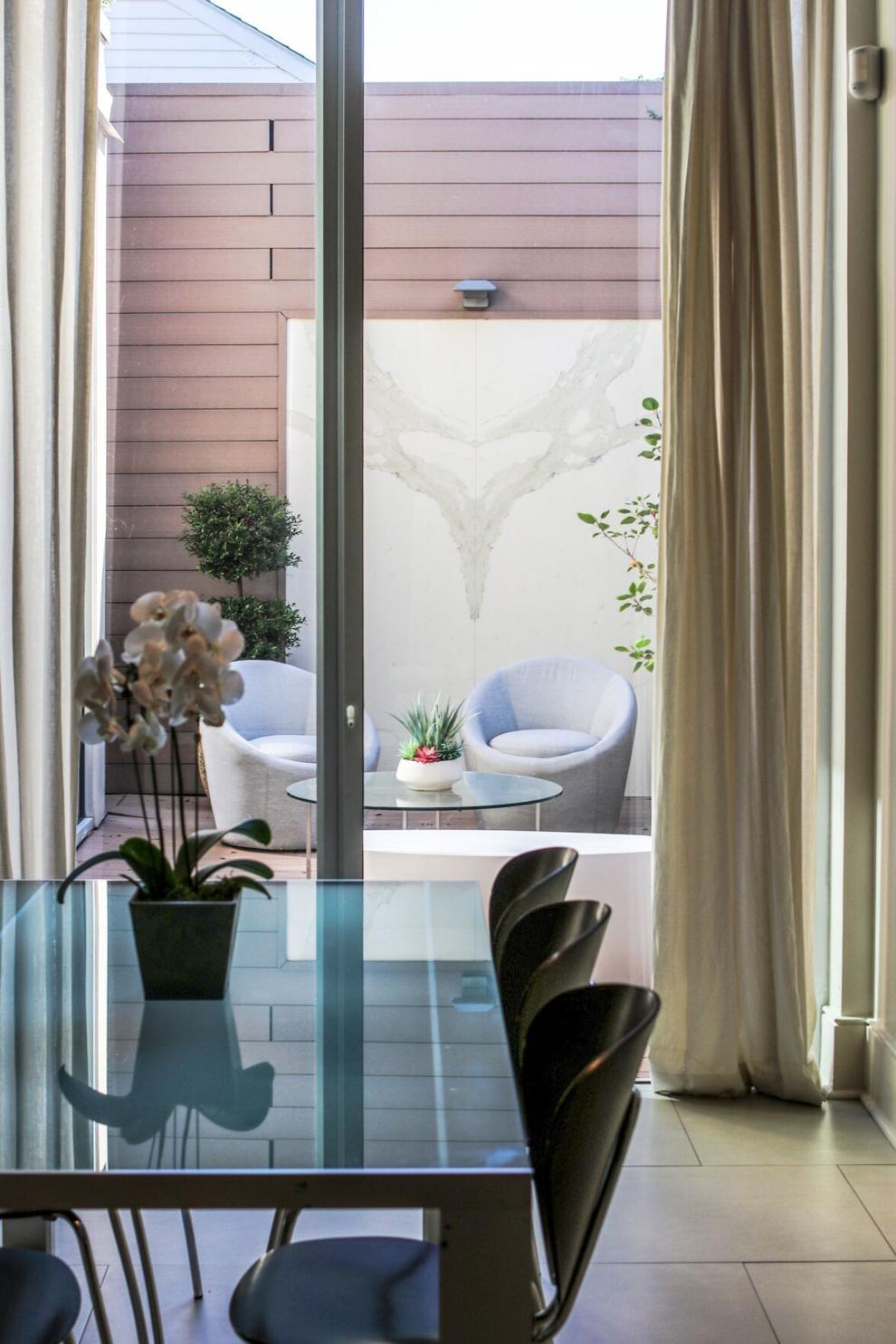 The family room also showcases more of the couple's art collection: two woodcuts by Scott, as well as large-scale works by Sam Francis (no family relation), Frank Jackson, Richard Serra and Frank Stella. A piece by Andy Warhol makes its own statement in the hall.
While the Francises have filled their walls with preeminent pieces, they've made sure the house doesn't feel like an art gallery.
It works perfectly for their family, they said, whether they are spending time in the kitchen or relaxing upstairs.
"Every day I pinch myself when I wake up here," Tim Francis said. "Because it's so open, you just feel like it's a happy house."
This story was reported by The Preservation Resource Center, a nonprofit whose mission is to preserve New Orleans' historic architecture, neighborhoods and cultural identity. For information, visit prcno.org.

https://www.nola.com/entertainment_life/home_garden/article_0f82b4f0-54b7-11ed-b939-9342d8a7f0f8.html