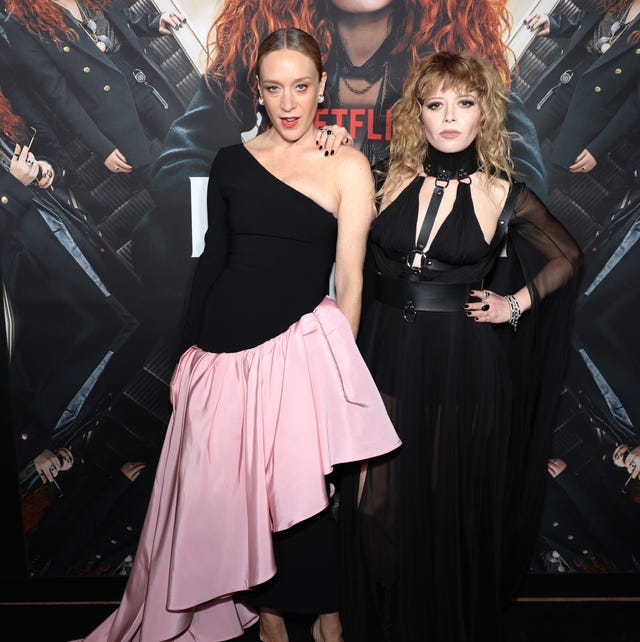 Dimitrios KambourisGetty Images
Ahead of the release of Russian Doll season two, which is out now, ELLE UK caught up with actor Natasha Lyonne to discuss all things fashion, from borrowing clothes off her best friend Chloë Sevigny to her ongoing journey to fit the perfect pair of kicks.
---
MY STYLE UNIFORM is a simple silhouette day-to-day. But when it comes to events I look to old Hollywood. They played around with hairlines and face shapes in those days; the emphasis was on creating a persona. When I think about Jean Harlow and Mae West, style to them was a whole game.
TAILORING IS EVERYTHING. It's the biggest tip I've learned from stylists throughout my career. Even if I can now pull together great individual pieces, if they're too tight or ill fitting, it never translates as well as a piece that has been tailored well.
I DO WISH I STILL HAD MY BELL BOTTOMED GUCCI TROUSERS FROM THE 1990s. It was the first time that I had worn Gucci, and it was for the Detroit Rock City premiere. They were these leather flares with leaves printed on. If there was ever something that should be pulled out of an archive or re-released it's those trousers.
MY MOST IMPRACTICAL PURCHASE TO DATE was this extremely overpriced boucle piece. Till this day I am not sure if it was a sweater or a coat. Swingy and short, but somehow still tight. I remember the push back from Chloë [Sevigny] at the counter when I paid, her shaming me with her eyes the whole time. But that made it all the more appealing. If I still had it I'd wear it over a Norman Kamali bikini on holiday, just to prove a point.
CHLOË IS INCREDIBLY GENEROUS WITH ME. Sometimes she'll dress me for an event from her wardrobe and I'll end up in vintage Gaultier without realising. On an everyday basis, I love grabbing black study boots from her even if she's a few sizes bigger and I end up with these massive stompers.
I STILL HAVEN'T FOUND THE TRAINER. Even with my streamlined style, I've yet to land on a good trainer. So for now my go-to comfort shoes is a Balenciaga sock boot.
A PIECE OF MY PERSONAL WARDROBE YOU'LL SEE ON RUSSIAN DOLL are a pair of Rodarte boots from the brand's collaboration with Cole Haan. I wore them to a fitting and they just worked. Even battered up from stunts, they feel so special to wear.
FASHION IS THE GREAT PROTECTOR. It can help make you feel confident and it makes social interactions less intimidating. It's almost impossible to be nervous in a great outfit. Sunglasses are also very helpful for this.
I BELIEVE IN BEING DESERT ISLAND READY. In case you lose your luggage or on the off-chance you become Tom Hanks in Castaway, I think getting dressed with the mindset of, 'Would I walk around in this for six months?' makes you consider the structure of an outfit. You'd want a good pair of knickers. A nice bra. Some jeans, a good sock, a good loafer. What is going to last?
This content is created and maintained by a third party, and imported onto this page to help users provide their email addresses. You may be able to find more information about this and similar content at piano.io
https://www.elle.com/uk/fashion/celebrity-style/a40127061/natasha-lyonne-russian-doll-season-two-interview/