Editor's note: This is a live account of COVID-19 updates from Saturday, May 21, as the day unfolded. It is no longer being updated. Click here to see all the most recent news about the pandemic, and click here to find additional resources.
The U.S. has reached the grim milestone of 1 million lives lost to COVID-19. A New York Times data analysis found that about 20% of the people who died left behind parents and stepparents, about 75% left sons or daughters and over 60% left grandchildren.
A different study looking to measure the immense losses families faced under the pandemic estimated that as many as 200,000 U.S. children under 18 lost a parent to COVID.
Meanwhile, the World Health Organization approved the emergency use of China's CanSino Biologics COVID-19 vaccine, which proved to be about 92% effective in preventing severe cases and 64% effective in preventing symptoms.
We're updating this page with the latest news about the COVID-19 pandemic and its effects on the Seattle area, the U.S. and the world. Click here to see the rest of our coronavirus coverage and here to see how we track the daily spread across Washington.
Navigating the pandemic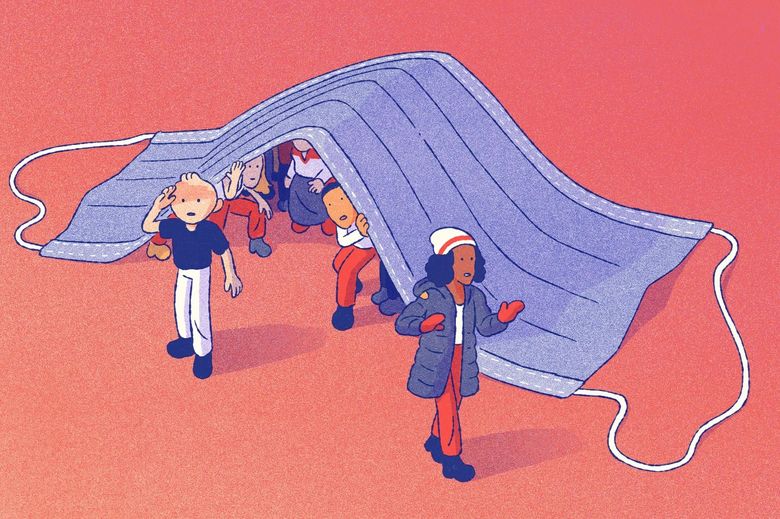 Tracking coronavirus in animals takes on new urgency
Researchers Sarah Hamer and Lisa Auckland donned their masks and gowns as they pulled up to the suburban home in College Station, Texas. The family of three inside had had COVID a few weeks earlier, and now it was time to check on the pets.
Oreo the rabbit was his usual chill self, and Duke the golden retriever was a model patient, lying on his back as Hamer and Auckland swabbed their throats and took blood samples. But Ellie, a Jack Russell terrier, wiggled and barked in protest. "She was not exactly happy with us," Auckland recalled. "But we're trying to understand how transmission works within a household, so we needed samples from everyone."
The questions driving the researchers goes far beyond pet welfare. They're investigating whether animals infected with the coronavirus might become reservoirs for the evolution of new variants that might jump back into humans – an issue with huge implications for both human and animal health.
In year three of the pandemic, scientists have confirmed that the virus believed to have first spilled over to humans from bats or possibly pangolins has already spread to at least 20 other animal species, including big cats, ferrets, North American white-tailed deer and great apes. To date, incidents of animals infecting humans are rare. Only three species – hamsters in Hong Kong, mink in the Netherlands and, possibly, also white-tailed deer in the United States and Canada – have transmitted a mutated, albeit mostly benign, version of the virus back to humans. But those cases are spurring concern.
Read the full story here.
—Ariana Eunjung Cha, The Washington Post
Chicago expected to reach 'high' COVID-19 level as soon as next week
Chicago is expected to increase to a "high" community level of COVID-19 next week as positive cases continue rising across the city and suburbs, public health officials said Friday, mirroring the surge of infections around other parts of the country.
"While we remain in medium, I expect that we will reach a high level as soon as next week given ongoing COVID trends," Chicago's public health Commissioner Allison Arwady said in Friday's statement. "Even if Cook County moves to high, as long as the healthcare system in Chicago remains stable, we likely will not automatically reinstate a mask mandate. We may, however, advise high-risk people to consider limiting non-essential indoor gatherings."
As of Thursday, eight counties in central and northern Illinois — though none in the Chicago area — met the CDC's criteria for "high" community levels of COVID-19. The criteria include having more than 200 new cases per 100,000 residents over the previous week, 10 or more new hospital admissions for COVID-19 per 100,000 residents, and an average 10% or more staffed hospital beds occupied by patients with the virus over the previous week.
At the high community level, state and federal health officials recommend wearing masks in indoor public places, including schools, regardless of vaccination status. People who are more vulnerable to the virus, including older residents and those with compromised immune systems, are encouraged to consider avoiding nonessential indoor activities.
Read the full story here.
—Tracy Swartz, Alice Yin, Dan Petrella and María Paula Mijares Torres, Chicago Tribune
Broadway extends mask mandate through the end of June
Masking must go on.
Broadway's theaters will continue to require that ticketholders wear masks at least through the end of June, the Broadway League said Friday.
The extension from the Broadway League, a trade group that sets coronavirus policy on Broadway, comes as New York rides out another COVID wave, the latest driven by uber-contagious subvariants of the omicron strain.
COVID turned the lights out on Broadway for 16 months, and the Theater District has broadly maintained strict virus precautions, though vaccine mandates dropped at many playhouses this spring.
Despite virus bumps and frequent cancellations, theater has made a resilient comeback in Manhattan. Thirty-five shows are now running in Broadway's 39 operational playhouses, according to the Broadway League, and attendance is on the upswing…
The mask mandate is typically followed in theaters — far more assiduously than in other spaces, like the subway — but adherence is not absolute.
Patti LuPone, a two-time Tony winner who is currently performing in a well-reviewed revival of "Company," unloaded on an audience member during a post-show question-and-answer session this month.
"Put your mask over your nose," LuPone, 73, said in an exchange that was captured in a viral clip. "That is the rule. If you don't want to follow the rule, get the [expletive] out."
Read the full story here.
—Tim Balk, New York Daily News
Rate of COVID cases in WA is rising
The rate of COVID-19 cases is rising in Washington.
The statewide average of cases over the past seven days is 228 per 100,000 people, keeping Washington in the state Department of Health's highest-risk category for the spread of COVID-19, The Spokesman-Review said Saturday.
Epidemiological curves show the number is still climbing, the newspaper reported.
Gov. Jay Inslee said Wednesday the best projections from health officials show there is likely to be a plateau in the relatively near future.
The most recent statewide data, complete through the week of May 11, shows the average percent in the last week of hospital beds occupied by COVID-19 patients is still at one of its lowest points in the pandemic, at about 6%. But it is increasing. At its peak in January, that number was almost 32%.
Read the full story here.
—The Associated Press
Scripps Research to lead $67M effort to develop drugs to fight COVID-19, other viruses
Scripps Research, the La Jolla institute that has played a key role in revealing the evolution and nature of COVID-19, has been awarded $67 million in federal funding to lead a consortium that will develop drugs to battle the constantly mutating virus.
The money comes from the National Institute of Allergy and Infectious Diseases, which also is funding eight other drug centers across the country just as coronavirus infections are again on the rise, including in San Diego County.
The consortium will include Calibr, Scripps' discovery company, as well as some of the nation's best known research institutions, including UC San Diego, the Cleveland Clinic and University of Texas Southwestern Medical Center.
The program will enable scientists "to develop drugs for the existing pandemic so that we can complement (therapies) like Paxlovid and Molnupiravir," said Sumit Chanda, a Scripps immunologist who will co-lead the consortium. "We need to take a combinatorial approach, like we do with HIV and Hepatitis C.
"And we need to get ready for the next pandemic by getting drugs in the pipeline and stockpiling them."
Read the rest of the story here.
—Gary Robbins, The San Diego Union-Tribune
CDC urges adults 50 and older to get a 2nd booster
In a sign of growing concern among federal health officials about the spread of new coronavirus infections, the Centers for Disease Control and Prevention is now saying that all people 50 or older should get a second booster shot if at least four months have passed since their first booster dose.
Previously, the agency said those 50 and older had the option of the additional shot but only encouraged people older than 65 or with underlying medical conditions to get it. The new guidance, issued in a statement on the CDC's website Thursday, also extends to anyone 12 and older with certain immune deficiencies.
The CDC said it was changing its advice because of a steady rise in infections over the past month, coupled with "a steep and substantial increase in hospitalizations for older Americans." New confirmed cases surpassed an average of 100,000 a day again this week, according to a New York Times database — a number considered an undercount. And nationally, hospitalizations of people with COVID-19 were averaging more than 23,800 daily as of Thursday, 31% more than two weeks ago.
Most Americans 50 or older received their last dose of COVID vaccine more than six months ago. That has left "many who are vulnerable without the protection they may need to prevent severe disease, hospitalization and death," the CDC said.
Read the full story here.
—Sharon LaFraniere, The New York Times
COVID-19, shootings: Is mass death now tolerated in America?
PROVIDENCE, R.I. (AP) — After mass shootings killed and wounded people grocery shopping, going to church and simply living their lives last weekend, the nation marked a milestone of 1 million deaths from COVID-19. The number, once unthinkable, is now an irreversible reality in the United States — just like the persistent reality of gun violence that kills tens of thousands of people every year.
Americans have always tolerated high rates of death and suffering — among certain segments of society. But the sheer numbers of deaths from preventable causes, and the apparent acceptance that no policy change is on the horizon, raises the question: Has mass death become accepted in America?
"I think the evidence is unmistakable and quite clear. We will tolerate an enormous amount of carnage, suffering and death in the U.S., because we have over the past two years. We have over our history," says Gregg Gonsalves, an epidemiologist and professor at Yale who, before that, was a leading member of the AIDS advocacy group ACT UP.
"If I thought the AIDS epidemic was bad, the American response to COVID-19 has sort of … it's a form of the American grotesque, right?" Gonsalves says. "Really — a million people are dead? And you're going to talk to me about your need to get back to normal, when for the most part most of us have been living pretty reasonable lives for the past six months?"
Read the full story here.
—Michelle R. Smith,The Associated Press
Palouse's COVID tally grows by 115 cases over past week
Health officials on the Palouse announced 115 new cases of COVID-19 over the last seven days, which is a larger increase than what has been seen in recent weeks.
Whitman County, in its weekly update Monday, said there were about 68 new cases over the previous seven days. Latah County added 47 cases during the week that ended Friday, according to numbers posted on the Public Health — Idaho North Central District website.
The numbers are still much smaller than those recorded in January during the height of the omicron surge. Plus, no deaths were announced this week.
Read the full story here.
—Moscow-Pullman Daily News
Health officials see signals in wastewater hinting at worsening virus wave
Health officials in several parts of the United States are seeing worrisome signals in wastewater surveillance data that the coronavirus may be spreading more widely than recent tallies of new cases would indicate, and that a steeper wave may be coming.
Wastewater surveillance provides only a broad-brush picture of virus prevalence in a particular community, but the readings it gives are close to real-time and do not depend on people seeking tests and reporting results. So health officials are looking to wastewater data for early warning of trends. And in some places, those warnings are flashing red.
The data has been like a "canary in a coal mine" for New Orleans, said Dr. Jennifer Avegno, head of the city's health department.
Read the full story here.
—Isabella Grullón Paz The New York Times
Judge: COVID asylum restrictions must continue on border
NEW ORLEANS (AP) — Pandemic-related restrictions on migrants seeking asylum on the southern border must continue, a judge ruled Friday in an order blocking the Biden administration's plan to lift them early next week.
The ruling was just the latest instance of a court derailing the president's proposed immigration policies along the U.S. border with Mexico.
The Justice Department said the administration will appeal, but the ruling virtually ensures that restrictions will not end as planned on Monday. A delay would be a blow to advocates who say rights to seek asylum are being trampled, and a relief to some Democrats who fear that a widely anticipated increase in illegal crossings would put them on the defensive in an already difficult midterm election year.
In Tijuana, Mexico, Yesivet Evangelina Aguilar, 34, cupped her face in her hands and sobbed when she learned of the decision from an Associated Press reporter. "I feel like there is no hope left," said Aguilar, who fled the Mexican state of Guerrero nearly a year ago after her brother was killed. "It feels so bad."
Read the full story here.
—Elliot Spagat and Kevin McGill, The Associated Press
They left craters of grief: Here's a closer look at the impact of 1 million U.S. COVID deaths
They add up to more than 1 million people.
They were Lolita and Louis from New York, a mother and son. They were Ella, a stickler for proper punctuation.
They were Tommy, who loved to rebuild vintage muscle cars. And Leona, who loved to play the Wheel of Fortune slots. Jeanne, who loved being quiet at the beach. Mary, who loved dancing to Mexican music. Johnny, who loved John Wayne movies. Danny, who loved watching hippos at the zoo. Anne-Marie, who loved sparkly things. Thomas, who loved long, scenic car rides. Barry, who loved a good joke. Carolyn, who loved life.
And they were loved. Each left a crater of grief in their wake when they died of COVID-19. The New York Times examined the listing of survivors in nearly 3,600 obituaries for people all across the United States who have died of COVID-19 since March 2020. Each left behind an average of 15 loved ones.
About 20% of those who died left surviving parents and stepparents. About 40% left spouses, partners or fiances. More than 65% left siblings. About 75% left sons or daughters. More than 60% left grandchildren. And many left grandparents, cousins, uncles and aunts, nieces and nephews, and best friends. The analysis did not measure how many young children and teenagers lost loved ones, but a recent study estimated that as many as 200,000 American children younger than 18 had lost a parent to COVID-19.
Read the full story here.
—Robert Gebeloff, Danielle Ivory, Lauryn Higgins, Matt Craig, Chloe Reynolds, Bonnie G. Wong, Brandon Dupré, Kristine White, Laney Pope, Yves De Jesus, Cierra S. Queen and Jess Ruderman, The New York Times
North Korea reports more fevers as Kim claims virus progress
SEOUL, South Korea (AP) — North Korea said Saturday it found nearly 220,000 more people with feverish symptoms, even as leader Kim Jong Un claimed progress in slowing a largely undiagnosed spread of COVID-19 across his unvaccinated populace and hinted at easing virus restrictions to nurse a decaying economy.
The outbreak has caused concern about serious tragedies in the poor, isolated country with one of the world's worst health care systems and a high tolerance for civilian suffering. Experts say North Korea is almost certainly downplaying the true scale of the viral spread, including a strangely small death toll, to soften the political blow on Kim as he navigates the toughest moment in his decade of rule.
Around 219,030 North Koreans with fevers were identified in the 24 hours through 6 p.m. Friday, the fifth straight daily increase of around 200,000, according to the North's Korean Central News Agency, which attributed the information to the government's anti-virus headquarters.
Read the full story here.
—Kim Tong-Hyung, The Associated Press
US sees risk of COVID supply rationing without more funds
WASHINGTON (AP) — The White House is planning for "dire" contingencies that could include rationing supplies of vaccines and treatments this fall if Congress doesn't approve more money for fighting COVID-19.
In public comments and private meetings on Capitol Hill, Dr. Ashish Jha, the White House coronavirus coordinator, has painted a dark picture in which the U.S. could be forced to cede many of the advances made against the coronavirus over the last two years and even the most vulnerable could face supply shortages.
Biden administration officials have been warning for weeks that the country has spent nearly all the money in the $1.9 trillion American Rescue Plan that was dedicated directly to COVID-19 response.
Read the full story here.
—Zeke Miller, The Associated Press

Seattle Times staff & news services
https://www.seattletimes.com/seattle-news/health/coronavirus-daily-news-updates-may-21-what-to-know-today-about-covid-19-in-the-seattle-area-washington-state-and-the-world-2/