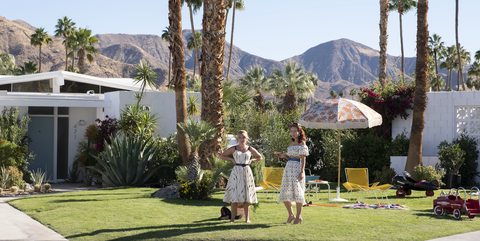 Courtesy Warner Bros. Pictures
Don't Worry Darling, Olivia Wilde's buzzed-about new film starring Harry Styles and Florence Pugh, isn't just drawing attention for its glamorous cast (and all of their drama), but also for its beautiful setting. Wilde and production designer Katie Byron feature a variety of stunning midcentury houses and buildings to fill out the film's 1950s California backdrop.
While promoting the film, Wilde praised her location scout for securing Richard Neutra's Kaufmann Desert House, the Palm Springs home famously captured in Slim Aaron's "Poolside Gossip" photograph, as a setting for a pivotal party scene. "When I was writing Don't Worry Darling I had a print of 'Poolside Gossip' on my wall and…kind of wrote it as a Kaufmann House–like environment," Wilde told Variety. "They've never shot a film there so to be there was huge…[shooting the first scene there] felt like a really auspicious beginning to this movie, which was this love letter not only to film but to architecture, to design, to this era."
If the cool lines, airy interiors, and poolside views of this modern icon have you looking for more, we've got your back. Here are eight houses from our archive that shine with the spirt of that stylish—and influential—design era, including a handful of sterling examples from the Golden State.
Advertisement – Continue Reading Below
This 1957 stunner, located in the Thunderbird Heights enclave of Rancho Mirage, California, could have easily been an alternative location for Don't Worry Darling's poolside party scene. Its homeowner, Paul Boschetto, tapped L.A.-based decorator Sheldon Harte to capture the magic of the era inside. "I love history," Boschetto told us, "and this is such a storied place."
Floor-to-ceiling glazing? Polished terrazzo flooring? Retro pool? This home has all the drama (minus the gossip) of the Don't Worry Darling set. Architect Luis Fernandez transformed this Beverly Hills abode, a former residence of Jeopardy! hostAlex Trebek, while maintaining the distinctly midcentury architecture. "To me," Fernandez says, "this is California living."
3
Palm Springs Playground
While this Palm Springs desert modern home, designed by Studio AR&D and Sam Cardella, is entirely new, its inspiration comes from its midcentury neighbors, including Don't Worry Darling's Kaufmann House. "We wanted it to be contemporary," said homeowner Marc Walters. "We love the peacefulness of a flat roof and how it creates a sculpture out of the house."
California-based architecture firm Kovac Design Studio designed a sprawling La Quinta, California, retreat outside of Palm Springs for Hollywood agent Todd Feldman. The home's airy interiors look like they could perfectly accommodate a scene starring Styles and Pugh.
While the Hamptons home of Daryl and Irwin Simon, designed by Poonam Khanna and A+I Architecture, may not have a desert and palm tree panorama, its sleek modernist design is fit for a movie screen.
It comes as no wonder that set designers David Wasco and Sandy Reynolds, who created sets for both The Royal Tenenbaums and La La Land, would have a movie-set-ready 1956 midcentury home in the Santa Barbara, California, foothills. "We feel our work is also about preserving Los Angeles, so that 50 or 100 years from now, people can see what the city looked like," Wasco told us.
This shou sugi ban Long Island home designed by architect Blaze Makoid and Joe Nahem is another brand-new residence, but with its column-free interiors, expanses of glass, and outdoor terraces, it's giving us Don't Worry Darling vibes all day.
This Arizona house may be contemporary, but according to designer David Netto, who was tapped to renovate it, the interiors harness the best of Richard Neutra's design lessons. "It's an old Neutra trick: the illusion that modernism can make real the fantasy of living outdoors," Netto says. And we—or the cast of Don't Worry Darling—would happily live in this luxe oasis.
Advertisement – Continue Reading Below
https://www.elledecor.com/life-culture/g41175446/dont-worry-darling-houses/